Bodacious Solution At Bodega Harbour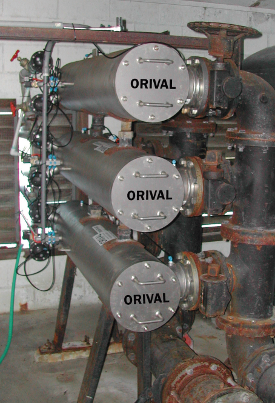 Irrigation at The Links at Bodega Harbour had a major problem. Their solution provided more than expected.
Picture a true Scottish style links golf course against the backdrop of the roaring Pacific surf. This is The Links at Bodega Harbour in Bodega Bay, CA just about an hour north of the Golden Gate Bridge. Not only is this one of California's most impressive golf courses, but it demonstrates a high degree of conservation by utilizing highly treated recycled water for irrigating the grounds. Brian Morris, Superintendent, knows that a Robert Trent Jones, Jr. designed course such as this needs the best in management and equipment. And nothing is more important to a golf course superintendent than a reliable irrigation system. A good system maintains the uniformity needed to see that every square foot of turf gets its share of water and fertilizer. With today's emphasis on water conservation, irrigation nozzles and emitters are getting smaller and smaller increasing the importance of a reliable filtration system.
Recycled water is stored in a 33 million gallon reservoir until needed. Here it picks up wind-blown debris, small fish, snails, algae, insects, and who knows what other critters that are destined to plug up irrigation sprinklers. "Without a premier filtration system," said Morris, "I would have to hire an army of workers just to clean clogged sprinklers. Greens only remain green if the sprinklers are free of debris."
In 2004 the original filtration system was rusting away and the control system was no longer reliable. A dependable long term solution was found in Orival. Orival, Inc. uses weave-wire stainless steel screens as a positive barrier to organic and inorganic suspended solids. This company offers a complete line of automatic self-cleaning filtration systems with the capability of fabricating manifolds and filter connections to fit right into an existing piping system. The Links needed immediate action. Orival met the needs of The Links at Bodega Harbour by supplying three Orival Model ORI-06-PE-S all stainless steel filters with optional high-performance multi-layer screens. The complete system was shipped the day following receipt of the order. Actual installation and start-up took less than a day. Operating in parallel, the three filters easily handle the 1500 gpm flow and use less than 1% of the flow for self-cleaning.
"The automatic flush cycle eliminates a lot of maintenance work and the controller gives us the flexibility and dependability we need," said Morris.
A solenoid control valve is a key component in the cleaning process used by many filter manufactures. If this valve plugs with debris, such as algae, the filters will fail to operate properly. Orival eliminates this problem by using only solenoid control valves having 5/8 inch openings that are virtually clog-free.
The OMNITROL 2000 control system was specifically designed to clean each of the three filters sequentially, taking only 8 seconds per filter. Because of the unique design, the cleaning cycle does not interrupt clean water flow to the irrigation system. "The automatic flush cycle eliminates a lot of maintenance work and the controller gives us the flexibility and dependability we need," said Morris. He describes the operation of a single filter as follows:
An additional bonus for The Links at Bodega Harbour was that the new Orival stainless steel filters cost less than the old carbon steel filters had cost ten years previously. Imagine, high quality, low maintenance, reliability and all at a lower cost—all's right with the world.